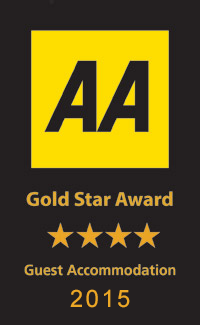 The Whiteleaf is AA Four Gold Star Bed and Breakfast in Croyde, North Devon.
We also have been awarded the Breakfast and Dinner AA Awards.
Our last inspection was in August 2015 and the assessor wrote " this was a positive overnight inspection under the AA Quality Standards. The Whiteleaf remains a Four GOLD Star classification with a Guest House Designator.
In term of hospitality both Mr and Mrs Rayner created a natural and genuine welcome with commitment to guest welfare. Aspects such as use of guest name, all help to personalise the experience and create a sense of inclusion.
Service was to be avery good standard throughout the stay. House keeping is a strength with consistent standards of cleanliness throughout, no lapses of note. Bedrooms and bathrooms provide sound levels of comfort with a host of thrustful extras, all reflecting the generosity which is a hallmark here.
The property has many positive aspects and the sense of pride is backed up by the well maintained interior and well kept gardens. Breakfast impressed, AA Breakfast Award retained – AA Dinner Award carried over.